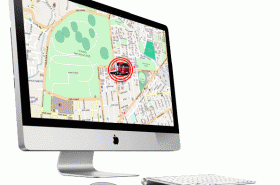 GPS Tracking for Fleet Management
Why Use A GPS Fleet Tracking Service?
Whether your company has a few or many vehicles, managing a fleet can be costly. Fuel, maintenance and operating costs can quickly add up and time lost from inefficient, dishonest and unsafe drivers can be a challenge for any company. A GPS fleet tracking service can help keep those costs in check and your employees honest and efficient by helping you to monitor their whereabouts and routines on the road.
A fleet management system can alert managers when drivers turn away from their designated route or when they make unauthorized stops. Our devices also indicate the amount of time a vehicle is idling and alert you to any unsafe driving habits such as excessive speed.
We offer a variety of online tracking solutions for companies interested in fleet management to meet budgeting needs.
Why should you consider GPS Protection for your company?
Helps to Stop Private Jobs
Help reduce insurance premiums
Assists in improving the mobile aspect of your operations
Anti- theft protection
Protection, control & efficiency of company assets and cargo
Vehicle location, speed and direction of travel that can be viewed at any time by simply logging onto our secure Online Tracking platform.
Live tracking and monitoring of Vehicles, personnel and assets from any computer with Internet access, at any location worldwide
Information that is displayed in user-friendly maps and reports, which can be customized to your unique requirements
Online Tracking Platform Features:
Our Online Tracking platform offers a real time view of a vehicle's location with a variety of reports and stores vehicle history for a maximum of (3) three months.
Ability to see ALL, SOME or ONE tracked asset in real time inclusive of speed and direction
Detailed mapping data- e.g. closest corner, landmark, street, city/town/village and electoral district
Multiple User Accounts/ Multiple Login Options
Ability to save Key locations or Landmarks
Maintenance Module – Automatic reminders for tune ups etc.
Ability to immobilize your vehicle in case of theft
Mobile version of online tracking platform
Vehicle battery theft alerts
Geo fencing Module – Ability to determine when a vehicle enters or exits a defined area
Multiple Report Options downloadable to Microsoft Office
o Alarm Report: Battery Disconnect, Geo Fence- In & Out report, Excessive Idle Alarm, Movement Alarm, Speed Alarm
o Historical Reports
o Speed Reports
o Trip Reports
o Summary History Report
o Additional Reports are available
Contact us for a quote and/or FREE NO OBLIGATION DEMO install for any of the packages outlined above (Special conditions apply for Free Demo Install)
CALL NOW – 480-8560 | 292-9880